VIETNAM – Hô-Chi-Minh
October 31st, 7:05 am
Let the adventure beggin!
Landing at Hô-Chi-Minh-City airport. After a 12 hours flight on Vietnam Airline, all I can think of is that I need a good walk! As I'm jumping on the bus to get to the ternimal, I can fell the climat change compaire to France. It's 30 degrees here with 80% humidity. When I left franc it was beryl 10 degrees… I'm going to need some time to get accustom to the heat.
Time to get my visa. After fill in the paper work, the customs officer signal me to take a site. There is about 50 people also waiting to get their visa, it's going to take a while.  Just an hour later, my passport is ready. In it, my 3 months visa as been stick. I can enter Vietnam.
One luggage in each hand, I walking to the national airport located just a few minutes away. I have 6 more hours to way befor vivi's arrival. She is been leaving in Nha Trang for more than two months now  and there is only two plane a day between the two cities. So I wait, siting at a coffee terrace, looking at  the sweeper dance. He is going up and down the terminal making sur the floor is spotless.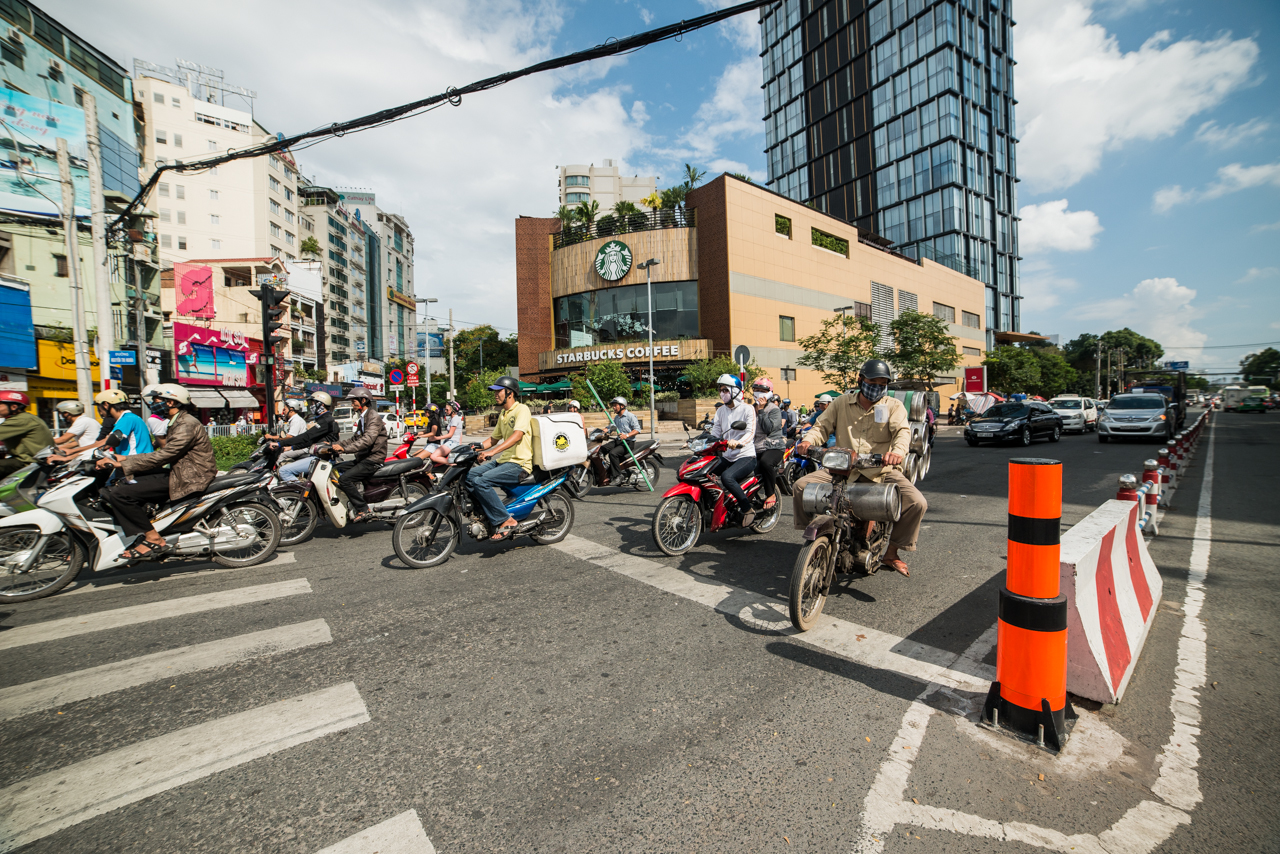 Finelly, Vivi arrives! We up on a taxis and head for the hotel in the backpackers district. We heard it was the best erea to stay. It takes us 20 minutes to get there as the traffic is crazy busy. It's my first time is Asia and I'm amaze by the reshuffling of the moto-bikes! I've never seen that nany before. The traffic is dense but it never seem to stop.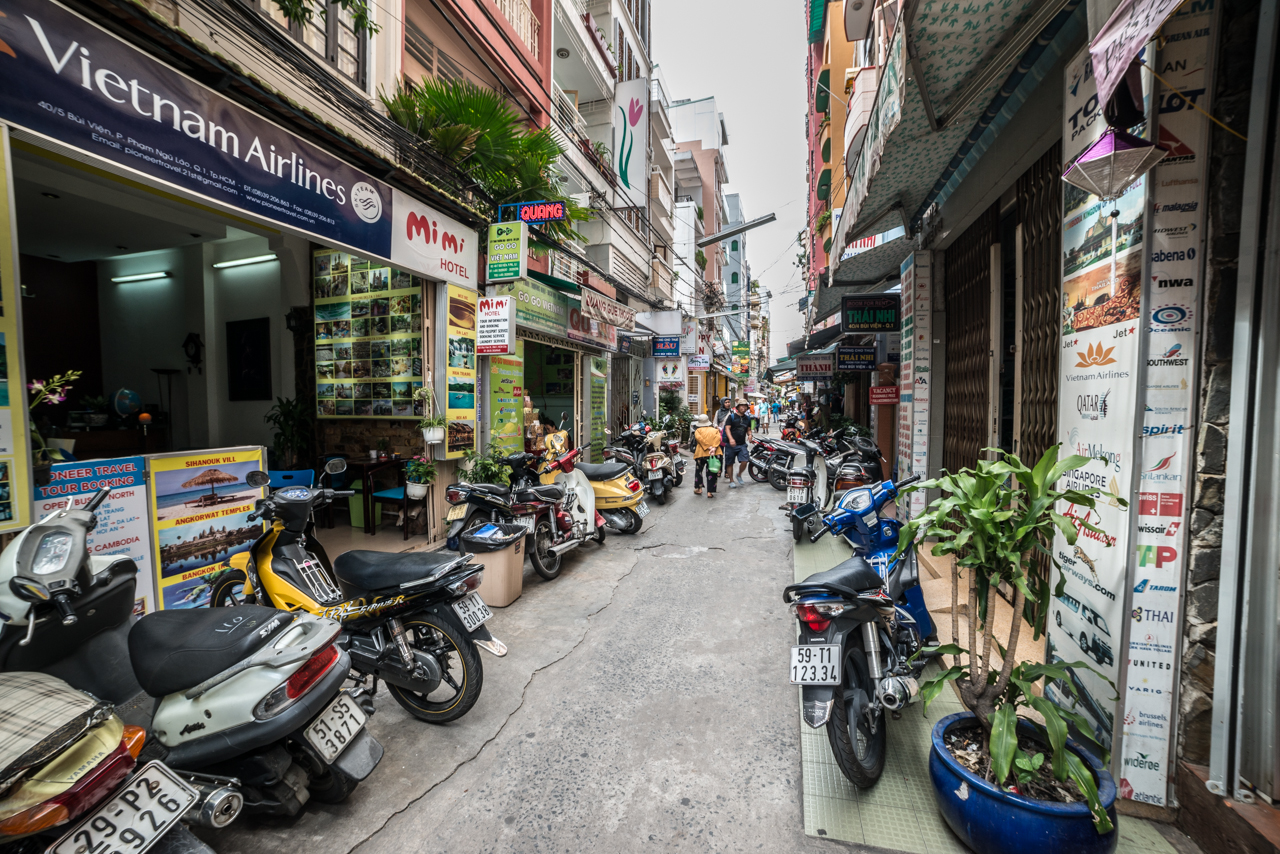 The city is just a big mass…but organized. The electrical installation is a nightmare. The shops are so full of stuff you can't get in. The sidewalk are pack with moto-bikes and small plastique chairs, they are some time impossibal to walk on. I don't know where and what to look at! But what would be massy in France look almost normal here. I don't know why…maybe because the all city is like this.
And everything works, you can find electricity and free-wifi everywhere… Can't always say the same in Europe!
Well, it works until it rain. Then the streets are transform into swimming pools and electricity stops and with it, the aircon, Internet, fans…everything! Because there are 50 electrical cables, and no one knows which isn't working, the cable guy just add a new one to fix the problem.
A little bit further, we arrive in the luxury erea. The street are bigger, shops are clean and expensive. Carter, Lacoste, Louis Vuitton, they all have there place. The European style equal luxury here.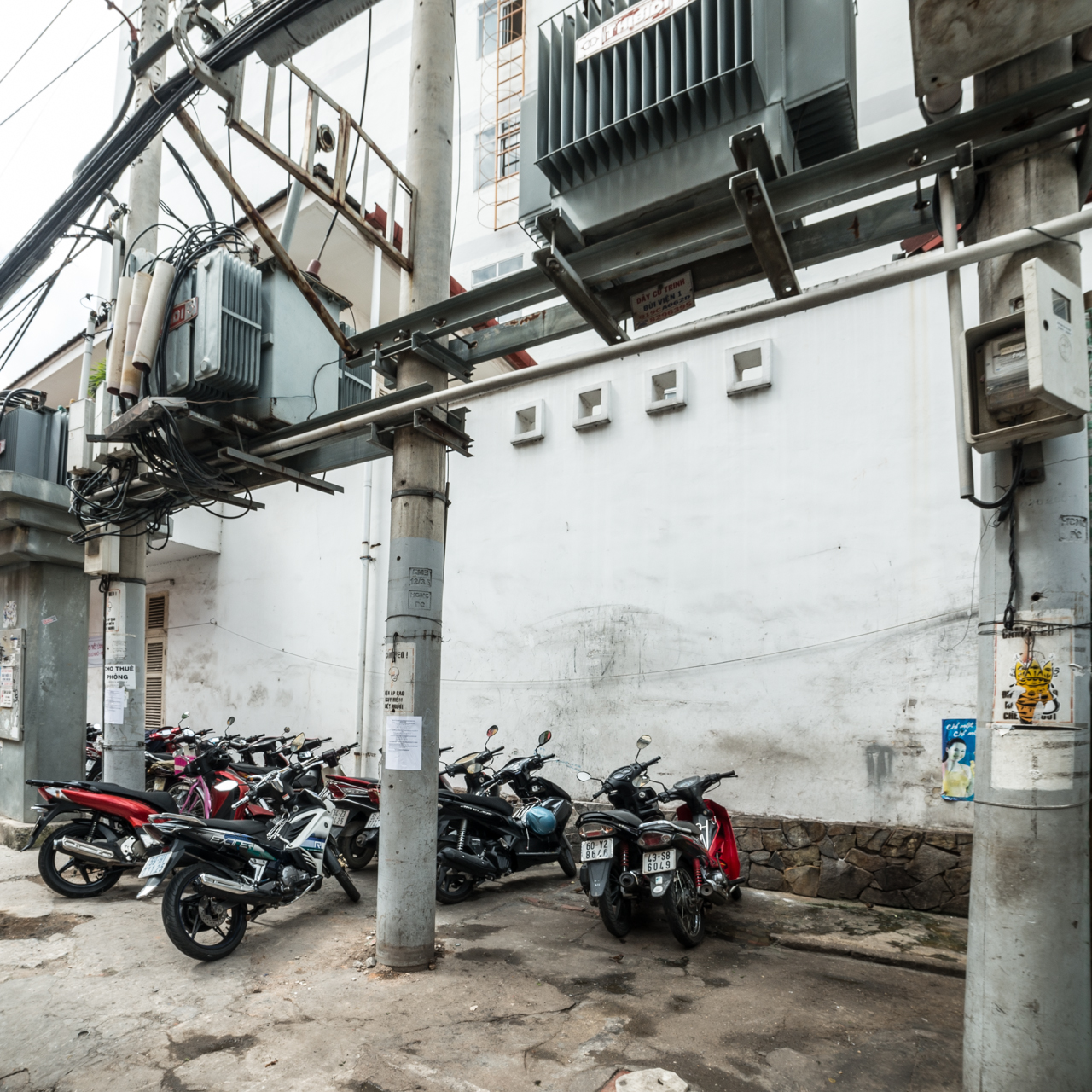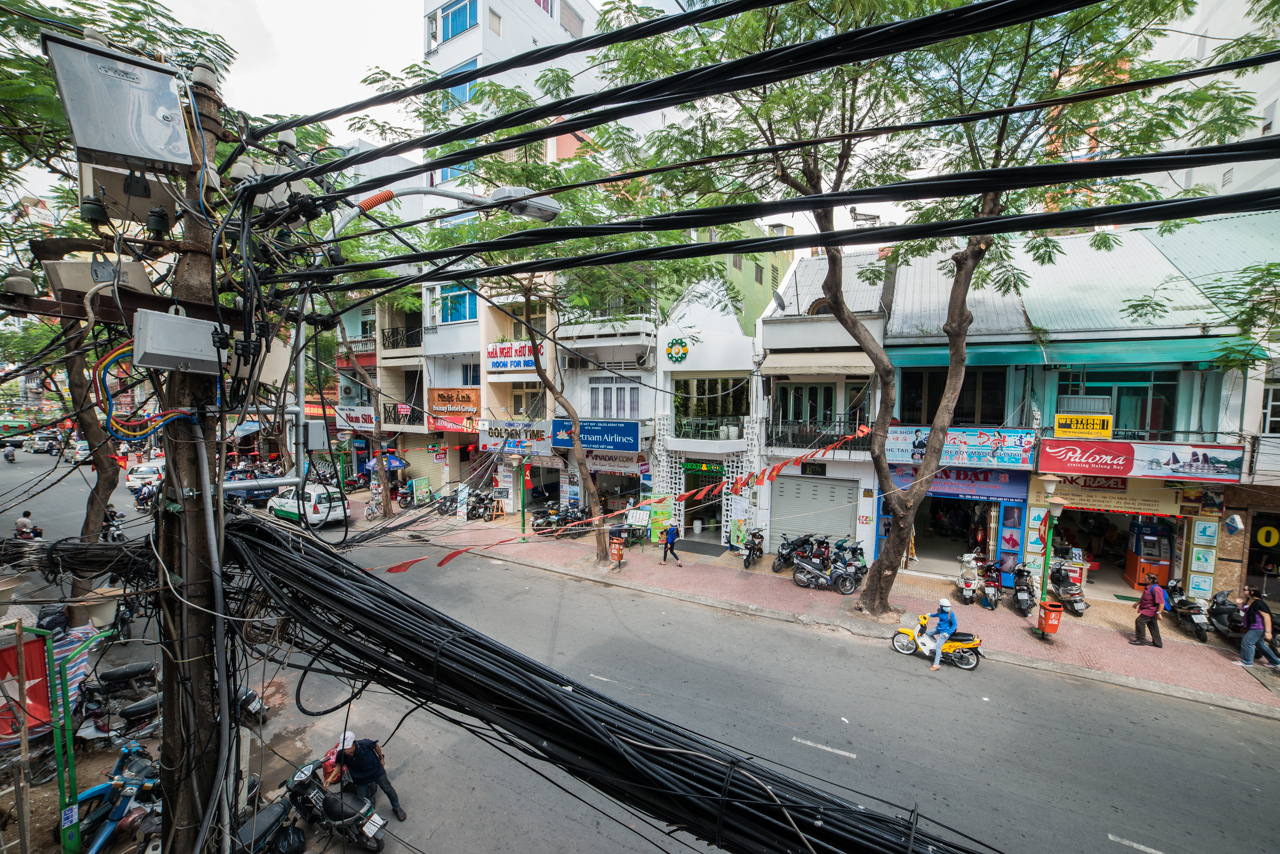 The french infloance is still every where. French shop names and boulangeries are every where! The bread is not always the best but it's definitely worth the one the can get in a french supermarket. The patisseries are great though, it's a mixt of Asia and French flavones.
As we are walking along, we realize that each street has it's specialty. You have the shoes street on the right, the glasses street on the left. The est on district one, is the trad center. All the big enterprise have their buildings. The north is quieter, you can walk along the canal and enjoy a more traditional atmosphere.
Fiche d'identité
Pays : Vietnam (VN)
Province : Hô-Chi-Minh
Coordonnées : 10° 46′ 01″ N 106° 40′ 01″ E
Superficie : 2 095 km2
Population : 7 123 000 habitants (en 2009)
Tourisme : restaurants, monuments, musées
Production : industry, port, head office of compagny
Il s'agit de l'ancien siège du commandement américain pendant la guerre. A l'époque appelé Saïgon, les Khmers l'ont rebaptisé Hô-Chi-Minh en 1975 en hommage au célèbre leader historique du Vietnam. Il s'agit aujourd'hui de la plus grande ville du pays. Située au bord du delta du Mékong, cette ville est le centre économique du Vietnam. La ville est considérée administrativement comme une province et est divisée en 24 arrondissements.
Où est Phu Quoc ?